Location
Data Matters will be held at North Carolina State University's Centennial Campus.
All Data Matters courses will be held at the James B. Hunt Jr. Library, located on the Centennial Campus of North Carolina State University (near The Oval). James B. Hunt Jr. Library is an iconic building that captures the spirit of NCSU's strengths in science, engineering, technology, and textiles.
Courses will be held in Hunt Library in the following rooms:
2110 A&B – 2nd floor (MULTIPURPOSE ROOM on map)
2110 C&D – 2nd floor (MULTIPURPOSE ROOM on map)
4105 Lecture Hall – 4TH FLOOR
4107 – 4TH FLOOR
4505 Teaching & Viz Lab – 4TH FLOOR
Food Options Near James B. Hunt Jr. Library
Common Grounds Café and Creamery – Located on the main level of Hunt Library, Common Grounds offers a lineup of hot and cold coffee beverages, muffins and bakery bars. Common Grounds also features a selection of Howling Cow scoops and shakes.
Port City Java – Just up Partners Way from James B. Hunt Jr. Library, Port City Java has signature coffee, beverages, pure-fruit smoothies, breakfast and lunch sandwiches, wraps, pastries, muffins, and bagels.
Food trucks – Along Main Campus Drive, about a 5 minute walk from the library, food trucks will be located in front of the Venture II building. Consult the schedule for availability.
On The Oval – On the Oval is located on the lower level of Wolf Ridge Apartments, across from Hunt Library on Centennial Campus and features a number of dining options.
Farther afield for dinner, there are several award-winning restaurants in Raleigh close to Centennial Campus: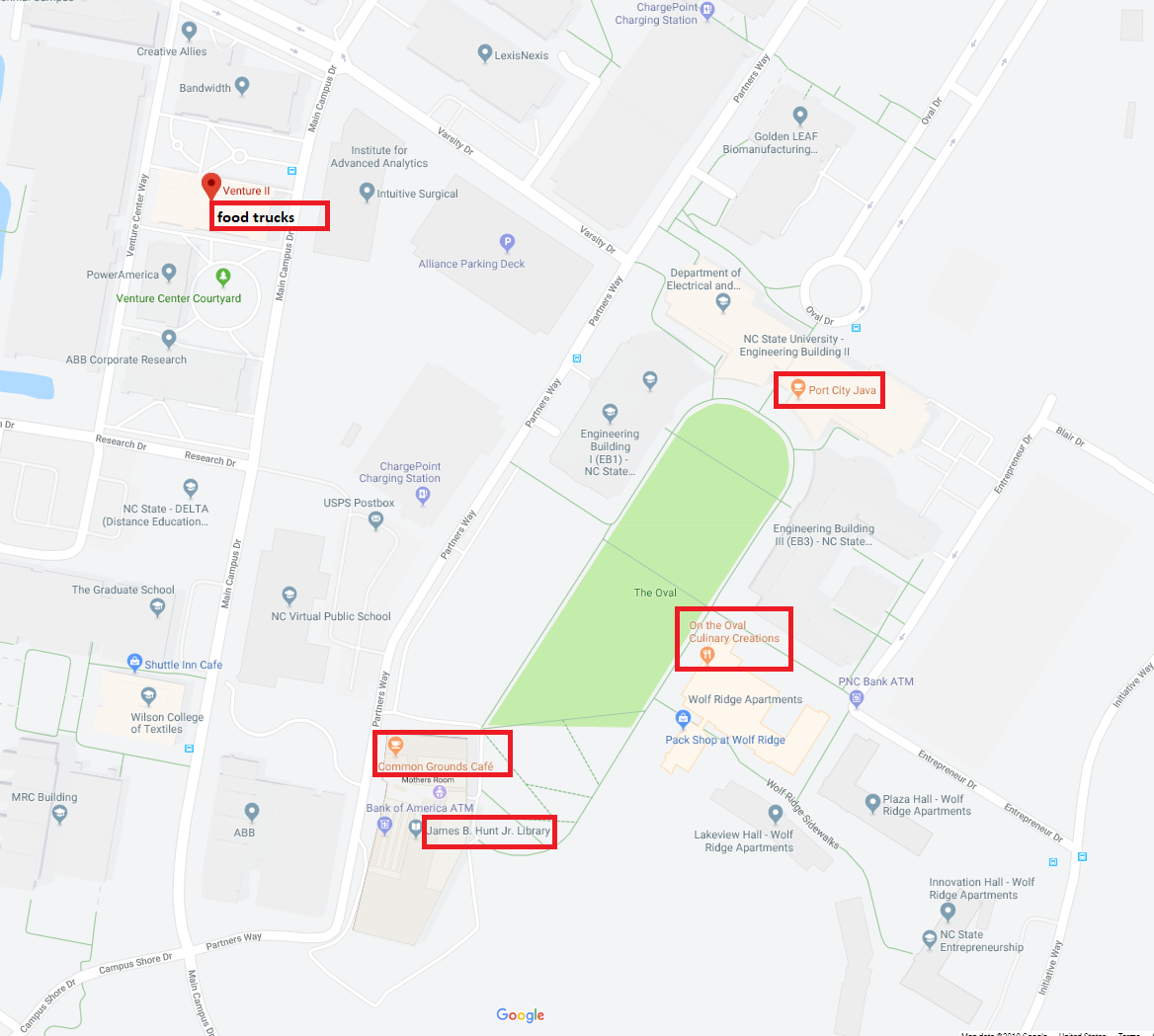 ---