---
Monday and Tuesday, August 7 & 8, 10:00a – 4:15p
Introduction to Data Science Using R
Jonathan Duggins
Duke Energy Hall A
Laptop computer with enough space to install R and RStudio
Introduction to Data Science Using R
Justin Post
Duke Energy Hall B
Laptop computer with enough space to install R and RStudio
Introduction to Effective Information Visualization
Eric Monson
Duke Energy Hall C
Laptop with Tableau, OpenRefine, web browser, Excel, & PowerPoint
Working with Messy Data
Brown Biggers
Duke Energy Hall D
Laptop with Python 2.7, OpenRefine, and a web browser
Data Curation: Managing Data throughout the Research Lifecycle
Thu-Mai Christian

Sophia Lafferty-Hess

Hunt Library Room 4106
Wednesday, August 9, 10:00a – 4:15p
Programming in R
Jonathan Duggins
Duke Energy Hall A
Laptop
Programming in R
Justin Post
Duke Energy Hall B
Laptop
Introduction to Geospatial Analysis
Eric Money
Duke Energy Hall C
Laptop
Open(ing) Data: Considerations in Data Sharing and Reuse
Thu-Mai Christian

Sophia Lafferty-Hess

Duke Energy Hall D
Introduction to Big Data and Machine Learning for Survey Researchers and Social Scientists
Trent Buskirk
Hunt Library Room 4106
Thursday and Friday, August 10 & 11, 10:00a – 4:15p
Introduction to Data Mining and Machine Learning
Ashok Krishnamurthy
Duke Energy Hall A
Laptop
Introduction to Data Mining and Machine Learning
Raju Vatsavai
Duke Energy Hall B
Laptop
Intermediate Programming in R
Justin Post
Duke Energy Hall C
Laptop
Collecting, Classifying, and Analyzing Textual Data in R
Alison Blaine

Markus Wust

Hunt Library Room 4106
Laptop
Visualization for Data Science in R
Angela Voss
Duke Energy Hall D
Laptop with current versions of R and RStudio
*Instructor bios are available on the Data Matters Course Descriptions webpage.
Location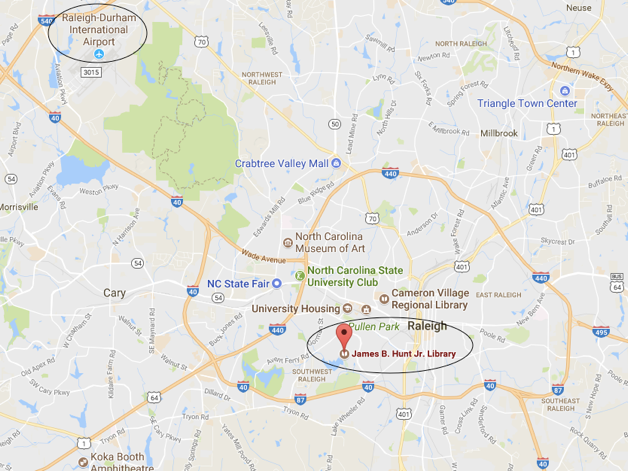 All Data Matters courses will be held at The James B. Hunt Jr. Library, located on the Centennial Campus at North Carolina State University. Courses will be held in Duke Energy Hall (labeled room 2110/Multi-purpose room in schematics below) and in Room 4106/Lecture Hall. Hunt Library is an iconic building that captures the spirit of NCSU's strengths in science, engineering, technology, and textiles.
Enter Hunt Library through the Partners Way Drive entrance and proceed to the up the yellow stairs to the second for check in. There will directional signage to assist you!
Centennial Campus is conveniently located near downtown Raleigh and just off of I-40 and I-440.
From the East: Take 40W to exit 297 for Lake Wheeler Rd. Turn right onto Lake Wheeler Rd.
Turn left onto Centennial Pkwy. Turn left onto Achievement Dr. Turn right onto Main Campus Dr. Turn right onto Partners Way. Hunt Library will be on the right.
From the West: Take 40E to exit 289 for Wade Avenue. Take the exit onto I-440 W. Exit onto Western Blvd toward Downtown/NC State Univ. Turn right onto Varsity Dr. Turn right onto Partners Way
Parking Information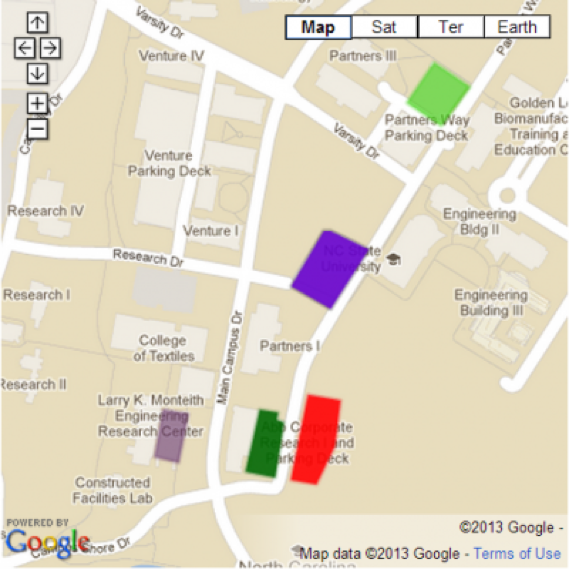 Parking is available at Oval West Deck. Oval West Deck (purple) is a one or two minute walk to Hunt Library (red). If you have registered to attend Data Matters 2017, you should have received an email to sign up for a parking pass. If you do not need a pass, please do not submit a request for a parking pass.
Directions: From Centennial Parkway turn South on Oval Dr., right on Main Campus Drive and left on Partners Way. The deck is located just past Varsity Dr. on the right.
Remember to print your parking pass and bring it with you! Leave it on your dashboard; pass side up, on the driver's side of your vehicle. If you registered under Academic Rate, bring your valid University ID to Data Matters. Please carpool with colleagues if possible!
Please contact Jamie Roseborough with questions at ncstate-dsi@ncsu.edu.
Eating around Hunt Library
Lunch will NOT be provided on site, but there are several eating options in the area.
On the Oval is located on the lower level of Wolf Ridge Apartments, across from Hunt Library on Centennial Campus. This location has 4 restaurants:
Additionally, Port City Java, just up Partners Way from Hunt Library has coffee and light bites. There are also food trucks along Main Campus Drive, about a 5-minute walk. The schedule is available here:  https://dining.ncsu.edu/locations/food-trucks/
Farther afield for dinner, there are several award-winning restaurants in
Raleigh close to Centennial Campus:

O'Reilly Media publishes books and tutorials on computer technology topics, all offered through their Safari platform. For Data Matters 2017, O'Reilly Media has graciously offered free trial access to attendees for 30 days to their learning material ranging from Learning Data Mining with R to Mastering Python for Data Science. Please note that the trial will end on August 29th. Thank you to the NCSU Libraries and the Data Science Initiative for partnering with O'Reilly Media to make this content available.
Register for your 30-day free trial access to O'Reilly's Safari platform: oreilly.com/getsafari?code=DataM17 
We look forward to learning with you at Data Matters 2017!